Previously we looked at an example of using Google Trends data to refine content topic choices.
Google Trends is extra nice because it's free. Google Ads' keyword planner is also free at the moment, though they keep making it harder to access. Instead of using Ads, you can do the following work quite easily using Moz Pro tools, if you have a paid subscription.
Let's revisit the intrepid Managing Editor of a national health-related publication, and see how she uses Moz data to help make choices for her editorial calendar.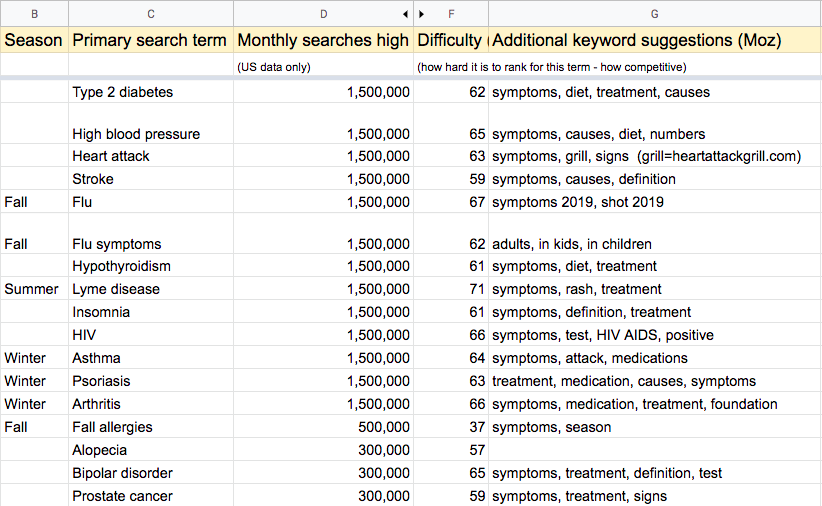 This is super quick-and-dirty tab in the back of a spreadsheet she uses to rough out the editorial calendar.
The Managing Editor starts by listing topics of interest in column B. Then she grabs data for columns D, F, and G from the Moz Pro keyword research tool. With an hour's work you can do this research on 100 terms or more, and see which terms are more or less frequently searched.
But column D isn't the only thing our ME looks at.
Column F helps spot terms that are easier to rank for. (After all, if your content doesn't rank, it may be excellent and useful for your site visitors, but fewer people are going to find it.) "Fall allergies" sticks out as a good target, even though its total search volume is not the highest:

And column G helps refine topics and even suggests specific content types:

A lot of people seem to search for "high blood pressure numbers" and variations on that theme. One simple infographic on blood pressure numbers, coming right up!
As always, the tools and the data don't do the job for her. Editorial expertise, judgment, and creativity still apply. So apply them to data!
Calendar image by Estée Janssens on Unsplash.